27 June 2006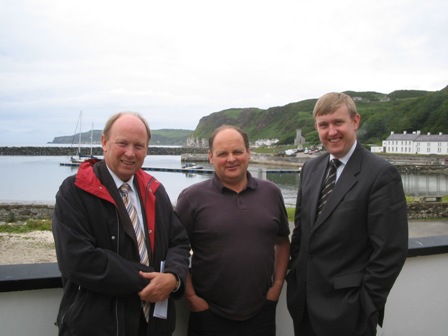 DUP MEP Jim Allister, accompanied by local MLA Mervyn Storey, has visited Rathlin Island to meet with community leaders and discuss funding possibilities.
Mr Allister said, "As our only inhabited off-shore island, Rathlin is a special place, which must not be forgotten in the on-going push for increased prosperity. Its natural beauty is a tremendous asset for tourist development. Already it is attracting increasing numbers of visitors. When I was there I encountered several foreign visitors who were captivated by its unspoilt appeal. A large visiting French yacht in the harbour illustrated the potential which is there, but infrastructural deficits must be tackled. An improved electricity connection is vital so that wind generated electricity can be profitably sold back into the grid.
There is an obvious need to secure a development officer exclusively for Rathlin and I have undertaken to assist in exploring funding possibilities. Also, under the new tranche of EU inter-regional and transnational funding, which will be available from 2007, it is vital that Rathlin does not miss out.
Clearly, its ferry is its lifeline. There too there is scope for improvement, particularly in regard to securing a vessel with adequate covered areas. To ensure Rathlin is not neglected there should be a co-ordinating Civil Servant, with cross-departmental authority, appointed to oversee the development of the island and promote its interests. I have put this proposal to the Secretary of State."

General