16 April 2009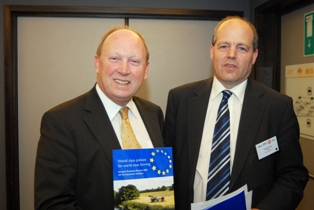 Speaking after attending the highly successful launch of the UK Farming Unions' Manifesto in the European Parliament in Brussels, Traditional Unionist MEP Jim Allister said:-
"I congratulate the Farming Unions on their initiative of bringing their message directly to MEPs by launching their manifesto for the European Elections in the Parliament in Brussels. The large turnout of British MEPs, though sadly only myself from Northern Ireland, demonstrated recognition of the continuing importance of UK agriculture. As an MEP who has worked closely with the organised farming interests in making the case for agriculture in the Parliament, I was happy to be present for the launch and participate in the discussion which followed".
"I find much in the Unions' Manifesto which I can readily endorse. Among the points most cogently and effectively made are:
• there is urgency attending the need for a fair sharing of risk and reward in the food supply chain;
• there should be country of origin labelling on all fresh and semi processed foods;
• sound science should be the foundation for every policy proposal, with rigorous impact assessments before legislation is imposed;
• there must be a sensible balance in the environmental standards demanded, lest production is driven abroad;
• more research is necessary into agricultural production, particularly with a fast-rising world population;
• sunset clauses should be inserted in regulations so that we are not blighted with compliance to "dead legislation";
• in the CAP reform we must guard against changes which would result in further distortions between member states, not least since the UK would opt out of agricultural expenditure, if it could;
• our Less Favoured Areas must be protected.
These are all issues which I have pursued in the present Parliament and on which I am pledged to continue the fight in the next Parliament."
ENDS

Agriculture and Environment