15 April 2009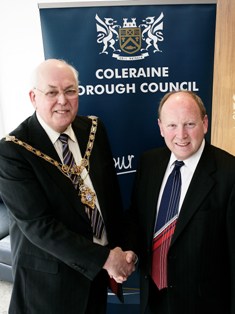 Jim Allister MEP has met with Coleraine Borough Council Mayor Cllr David Barbour and Council officials, to discuss the Council's economic development strategy, and how EU funding can provide assistance.
The MEP said of his meeting,
"I was pleased to accept the Mayor's invitation to meet with him and Council staff in Coleraine. I commend the Mayor on his economic vision for Coleraine, in particular his commitment to putting steps in place which will enhance business activity within the Borough".
"I have no doubt that a number of forthcoming initiatives will serve to improve the credentials of the Coleraine area for doing business. Northern Ireland's first direct telecommunications link with North America is to be brought ashore between Portrush and Portstewart, which will offer a considerable advantage to encouraging new business, in particular hi-tech jobs into Coleraine. Furthermore, the Council is developing a major plan to improve the streetscape of its seaside towns, which should serve to further promote tourism within the area."
"My meeting with the Mayor and his staff was extremely informative. I believe Coleraine is well positioned to weather the current economic difficulties in which we find ourselves."
ENDS

General